(click for pdfs)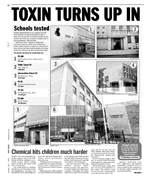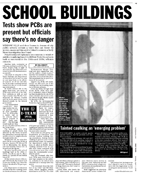 The Daily News tested caulking sampled from several NYC public schools and found that most contained many times more PCBs than the threshold for toxic waste.

Polychlorinated biphenyls

were banned for most uses in 1979 after being linked to cancer, severe birth defects and broad ecological damage. For decades before the ban, however, PCBs were routinely added to the caulking used in most large buildings built since the 1950s. Under EPA regulations established 30 years ago, anything with more than

50 parts-per-million of PCBs is considered toxic waste

, demanding immediate removal and disposal at a proper hazmat facility.

I found

225,000ppm

in the caulking of one Upper West Side elementary school. Ironically, this school had just had most of its windows replaced -- but using a method that spread PCB-laden dust throughout the school. During the work, teachers complained that students had to wipe down their desks every day.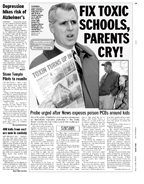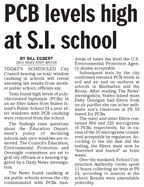 After reading my initial coverage, a mother on Staten island decided to test the a HEPA filter she had placed in her asthmatic son's classroom. In

two weeks

of use, the filter had

collected PCBs far beyond the 50ppm limit

. This was a year after the school's windows were removed by the same method as the Manhattan school. PCBs started turning up in a lot of schools. As of September 2009, the count was

85 schools

with illegal levels of PCBs in the caulking, with the highest concentration at

470,000ppm

.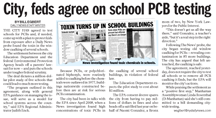 The ensuing City Council hearings and lawsuits finally resulted in a settlement in January 2010 between the EPA and the city to deal with the PCB caulking in what they billed as a national model. The problem isn't unique to New York by any means -- nor, quite frankly, limited to schools. PCBs in legacy caulking persist in many instutional buildings across the country built between 1950 and 1977.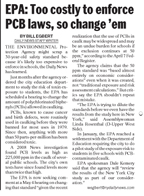 More recently, in a surprise about-face, the EPA has proposed changing its regulations to exempt caulking from the 50ppm safety standard. Oddly, it was embedded in a much larger proposal to tighten regulations on electrical equipment containing PCBs, simultaneously arguing that 50ppm is dangerous inside sealed capacitors, but thousands of times that amount might be just fine on classroom window sills. It wasn't an easy sell at the Manhattan public hearing.









Back to Main Page